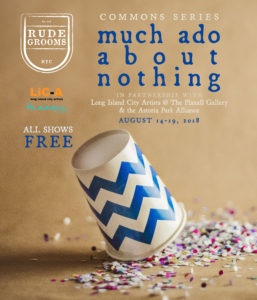 in partnership with
Long Island City Artists at the Plaxall Gallery
& the Astoria Park Alliance
Free Public Performances August 14-19, 2018
August 14 @ 7:30pm: MOVED TO THE PLAXALL GALLERY (originally scheduled for 6:30pm in Queensbridge Park) (Long Island City)
August 15 @ 6:30pm: Rainey Park (Astoria)
August 16 @ 6:30pm: West End Theatre (Upper West Side)
August 17 @ 6:30pm: The Great Lawn at Astoria Park (Astoria)
August 18 @ 6:30pm: The Great Lawn at Astoria Park (Astoria)
August 19 @ 1:30pm: Indoors at the Plaxall Gallery (Long Island City)
August 19 @ 6:30pm: Outside at the Plaxall Gallery (Long Island City)
ACTING COMPANY
Marie Louise Guinier*
Sibel Damar
Dhruv Iyengar
Daniel Kemper
Laura Piccoli
Deb Radloff*
Joseph Robinson*
Amanda Rojas
Eduardo Ruiz
Montgomery Sutton*
Molly Thomas

Actor-Manager: Laura Piccoli

Book-Holder: Kate Pitt

Master of Music: Kara Arena

Master of Movement: Bridget Bose

Assistant Producer: Calley Luman

* These actors are appearing courtesy of Actors' Equity Association. Equity approved Showcase.
Artistic Statement
When we considered launching Rude Grooms' Commons Series with Much Ado About Nothing, we asked ourselves what makes the play relevant today: why Much Ado, and why now?
Three responses emerged that have become  the guiding principles of our process:
1. Can the events of the play believably take place in our modern world and the #MeToo movement? If so, how might its depictions of gender roles illuminate our current struggle for equality and respect?
2. The play's rich explorations of interpersonal warfare ask challenging questions about why or whether we choose to forgive those who have hurt us most intimately.
3. Much Ado is a delicious cocktail of wit, delight, and heart: in our increasingly fragmented world, joining as a community to laugh, love, and mend together couldn't be more important.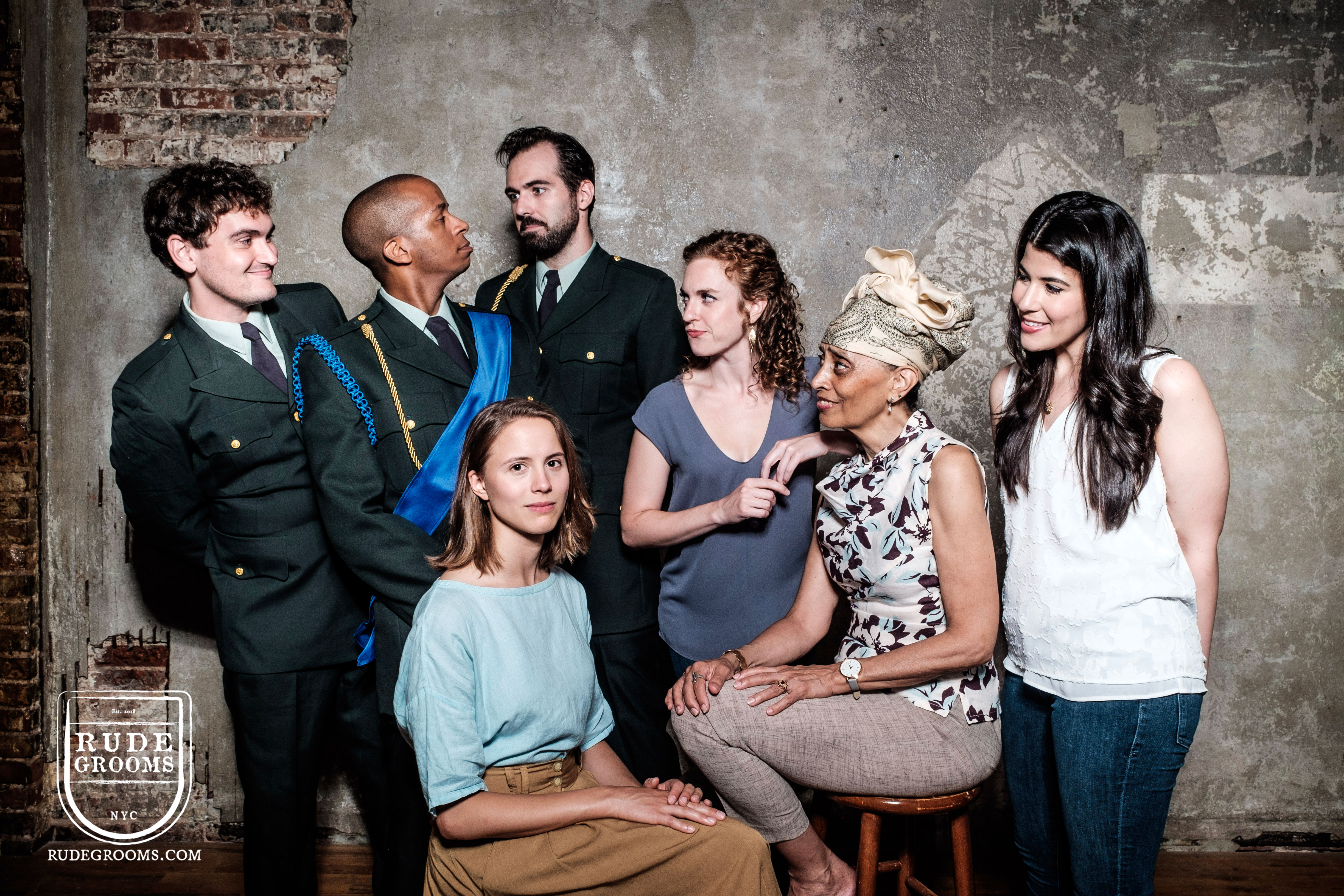 ARTIST BIOS
Kara Arena (Master of Music) is an actor/singer-songwriter with original work performed at the Gilbert Theater and The Millspace Center for Art. Recent acting credits include: The Winter's Tale (Seven Stages Shakespeare Company), The Weird (Off The Grid Theatre Company), Crazy For You (Reagle Music Theater). Workshops: Picnic at Hanging Rock (Goodspeed Opera House New Works Festival), Big Deal (Musical Theatre Factory). Boston Conservatory 2017.
Sibel Damar (Friar; understudy Don Pedro/Messenger; female cover) is a NYC based actress and performer at the Upright Citizens Brigade Theatre on the Improv team "We Will Slay." She is a Voice Over Artist for DDO Artists Agency and has done work for Coca-Cola and some brand name skin care products that she can't mention yet. She is best known for her work in the New York 48hour Film festival 2017 in which she won Best Supporting Actress for her performance in "A Rose for Wally."
Marie Louise Guinier (Leonata) has performed Off-Broadway at the INTAR Theatre (Scissoring), at BAM Harvey, and LINCOLN CENTER Out-of-Doors; regionally at The Folger Theatre in Washington DC (Njinga the Queen King). She created the roles of Patience Cooper in Patience of Nantucket at The Boston Center for the Arts (IRNE nomination) and Gladys in Evensong at APAC (NYIT award nomination). Her work in film & TV includes HBO's High Maintenance, ABC's What would You Do?, and the multi award winning short "If the Trees Could Talk." Coming in 2019 she will appear in Strive staring Danny Glover. Grateful for the opportunity to be working with the Rude Grooms!
Calley Luman (Associate Producer) is an actor, writer, and visual artist based in Brooklyn, NY from Yukon, OK. Recent acting credits include: Hamlet, The Winter's Tale (Seven Stages Shakespeare) and A DREAM PLAY (Egg & Spoon Theatre Collective.) To find out about her writing and visual art, head over to calleyluman.com or follow her on instagram at @Calley_at
Dhruv Iyengar (Messenger; understudy Don Pedro/Friar; male cover) is a rising sophomore in the BFA Acting program at Ithaca College. Some of his previous work includes Tranio in The Taming of the Shrew (Ithaca Shakespeare Company), Warren in This is Our Youth (Ithaca College), Dr. Wendell Barnes in Boy (Ithaca College), and Roderigo in Othello (Shakespeare Dallas/Junior Players). He is incredibly thrilled to be a part of Rude Grooms' inaugural public production and such a diverse and electric ensemble of artists. Special thanks to Monty for this amazing opportunity.
Daniel Kemper (Don Pedro) is an actor, singer, and chess teacher based in New York. A Florida native, he has a passion for collaborating with artists from the Bronx all the way down to Brooklyn, and everywhere in between. Recent credits include work with The Daughter's Collective, Duende Theatre Group, and the occasional ShakesBEERience with Seven Stages Shakespeare Company. He is thrilled to play in one of his favorite Shakespeare stories alongside this absurdly talented cast. Enjoy the show!
Laura Piccoli (Actor-Manager, Hero/Conrad) Film/TV: Law and Order: SVU (dir. Mariska Hargitay), Samantha Moonley's Greatest Feeling (dir. David Light and Garrett Kennell, Audience Award NFFTY). Theater: The Shrew, The Tempest (Seven Stages Shakespeare Company), Tape (Bridge Theatre), Unhealthy (Battalion Theatre). BFA, NYU: Stella Adler Studio in NYC and RADA in London, UK. www.lauracpiccoli.com
Kate Pitt (Book-Holder) does theater. A generous amount. Mostly Shakespeare. B.A. Yale (History). Additional Training: RADA, Shakespeare & Company, Double Edge. Four years in Public Programs at the Folger Shakespeare Library. Recent: Assistant Director, The Way of the World (dir. Theresa Rebeck). Sellsword writer/director/dramaturg/coach. Former All-American foil fencer and current novice swing dancer. @KatePitt.
Deb Radloff (Dogberry/Margaret) is thrilled to be speaking in third person, and to be a part of Rude Grooms Much Ado! NYC CREDITS: A Brand New World(Three Act Theatre), Much Ado About Nothing (M.O.D theatre),"Mother Knows Best"( Best Emerging solo artist at the United Solo Theatre festival), The Caucasian Chalk Circle( Classic Stage Company), Brewed ( NYC Fringe) REGIONAL: Last of the Red Hot Lovers( Northern Stage). the Yiddish Are Coming: The Chosen Musical (world premiere, Denver Civic Theatre), Pericles, Othello, Twelfth Night and Measure for Measure (Nebraska Shakespeare Festival) Richard III, The Tempest,Much Ado About Nothing, Inherit Wind, Amadeus, As You Like it, and Death of a Salesman(The Old Globe). M.F.A The Old Globe/USD. Rep. by the amazing folx at Professional Artists.
Joseph Robinson (Don John/Verges) is a transplant from Tennessee, where he has worked with Tennessee Rep, the Nashville Shakespeare Festival, and the Nashville Children's Theatre. Northeast regional credits include acting & directing with Connecticut Free Shakespeare, Courthouse Center Stage Rhode Island, Elektra Theatre NYC, and others. He is a fight choreographer, stunt performer, & teaching artist with Neutral Chaos NYC. This fall he joins the MFA candidates at George Washington University's Academy for Classical Acting.
Amanda Rojas (Ursula/Borachio) is thrilled to join the cast of 'Much Ado'. Originally from Dallas, TX, Amanda is a proud graduate of Syracuse University with a BFA in Acting. Regional credits include work at Berkshire Theater Festival and Dallas Summer Musicals. She has appeared in numerous commercials and was most recently featured in the film Iridescent, a Cannes Official Selection Marche Du Filme 2018.
Montgomery Sutton (Benedick) LONDON: Twelfth Night (Shakespeare's Globe); OFF-BROADWAY: A Middsummer Night's Dream (New York Classical); REGIONAL: Title role in Henry V (Cape Fear Regional Theatre), The Winter's Tale (Seven Stages Shakespeare), Love's Labours Lost, King Lear, Richard III, Measure for Measure (Trinity Shakespeare), One Man, Two Guvnors (Florida Studio Theatre), Second Thought Theatre, Theatre Three, Uptown Players, Circle Theatre, Dallas Children's Theater, Shakespeare Dallas. Film/New Media: Trouble with Women, 1865. Playwright: Advent (O'Neill semi-finalist); Antigone, Broken Water (Gilbert Theatre); Your Colonel (Metropolitan Playhouse); Ruins. BFA: NYU. Upcoming: Pleading Infinity at Unied Solo (www.pleadinginfinity.com). www.montgomerysutton.com | @montgomerysutto
Molly Thomas (Beatrice) is delighted to be part of this beautiful show! Favorite roles include Creon in Titan Theatre Company's Medea, Tybalt in Romeo & Juliet, and a very hungry Mob in Coriolanus. She also performs nationwide with the Vixens En Garde, an all-female sword-fighting and Shakespeare troupe, of which she is a founding member. BFA NYU: Atlantic Acting School. www.MollyThomasNY.com.