October 28 at 7:30pm at The Plaxall Gallery: Buy Tickets
HALLOWEEN, October 31, 7:30pm at The Astorian: Buy Tickets
"Some call me 'witch', and being ignorant of myself they go about to teach me how to be one."
– Elizabeth Sawyer, The Witch of Edmonton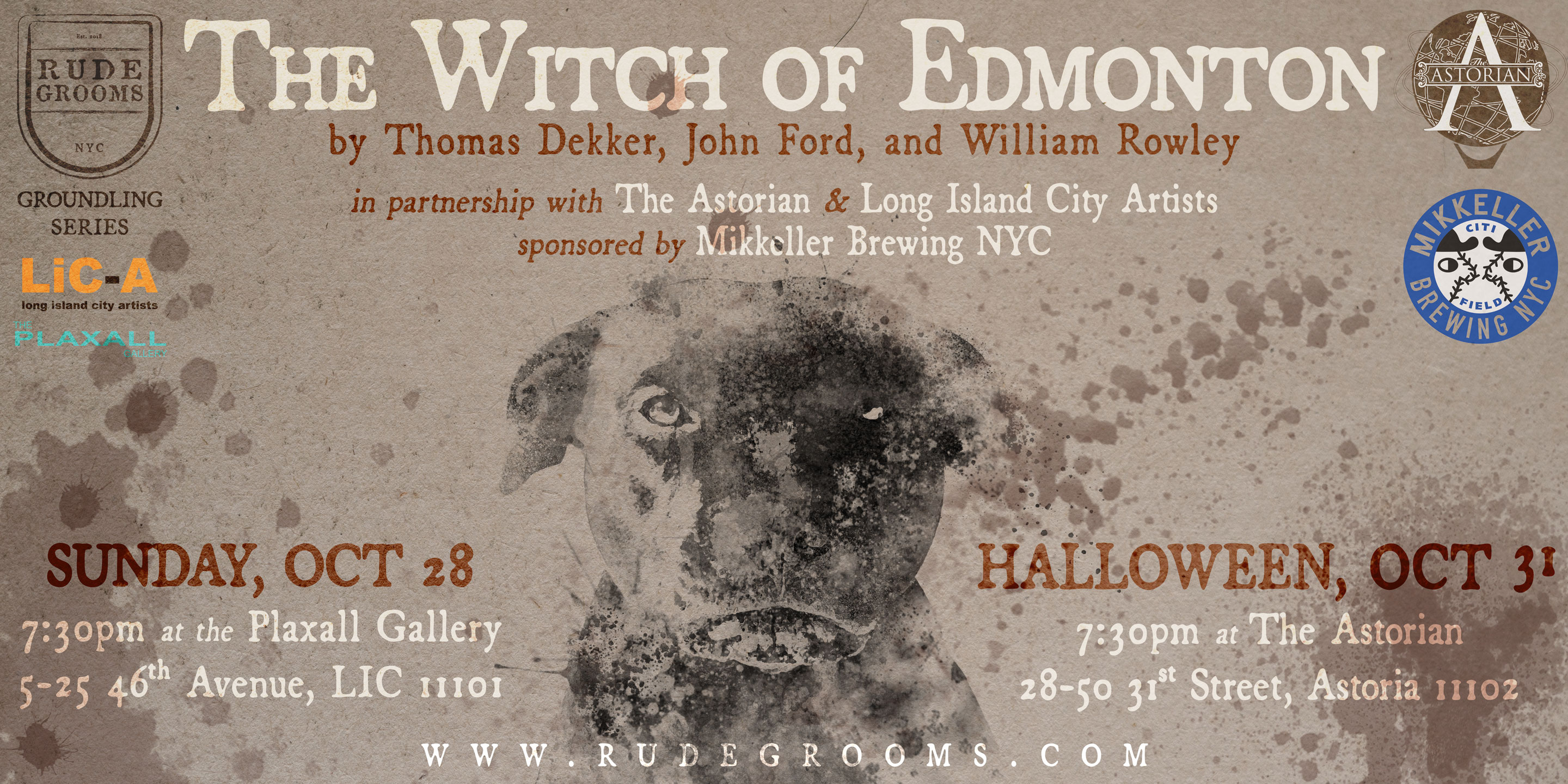 Featuring
J. Clint Allen*
Devon Glover
Will O'Hare
Adriane Moreno
Kate Pitt
Deb Radloff*
Yael Reich
Eric Simpson
Montgomery Sutton*



* These actors are appearing courtesy of Actors' Equity Association. Showcase approval pending.
About the Play
The Witch of Edmonton is an unnerving tragicomedy inspired by the true story of Elizabeth Sawyer, a woman accused of witchcraft during the reign of James I. Mistreated by her neighbors and abandoned by her community, Elizabeth turns to supernatural powers to aid her in her revenge against her tormentors. Though they may at first appear virtuous, everyone in this small town has something to hide and Elizabeth has just the thing to sniff them out…
Join us for a thrilling, contemporary rendition of the play, complete with games to interact and drink along with the people of Edmonton. Costumes welcome!
Creative Team
Clint Allen (Dog). Bio coming soon.
Bridget Bose (choreographer) has a background in Ballet, Jazz, Modern, and Contemporary. Selected work includes Much Ado About Nothing for the Rude Grooms' 2018 Commons Series, the American Dance Festival, The Kennedy Center, and The Beacon Theatre, the international TV channel Star Plus, the circus show RED at Ferrari World Abu Dhabi, and an international tour of the Bollywood show Mystic India. Bridget founded Guilty Pleasures Cabaret, which she directs/produces/choreographs for regular bookings in NYC and domestic/international tours. bridgetbose.com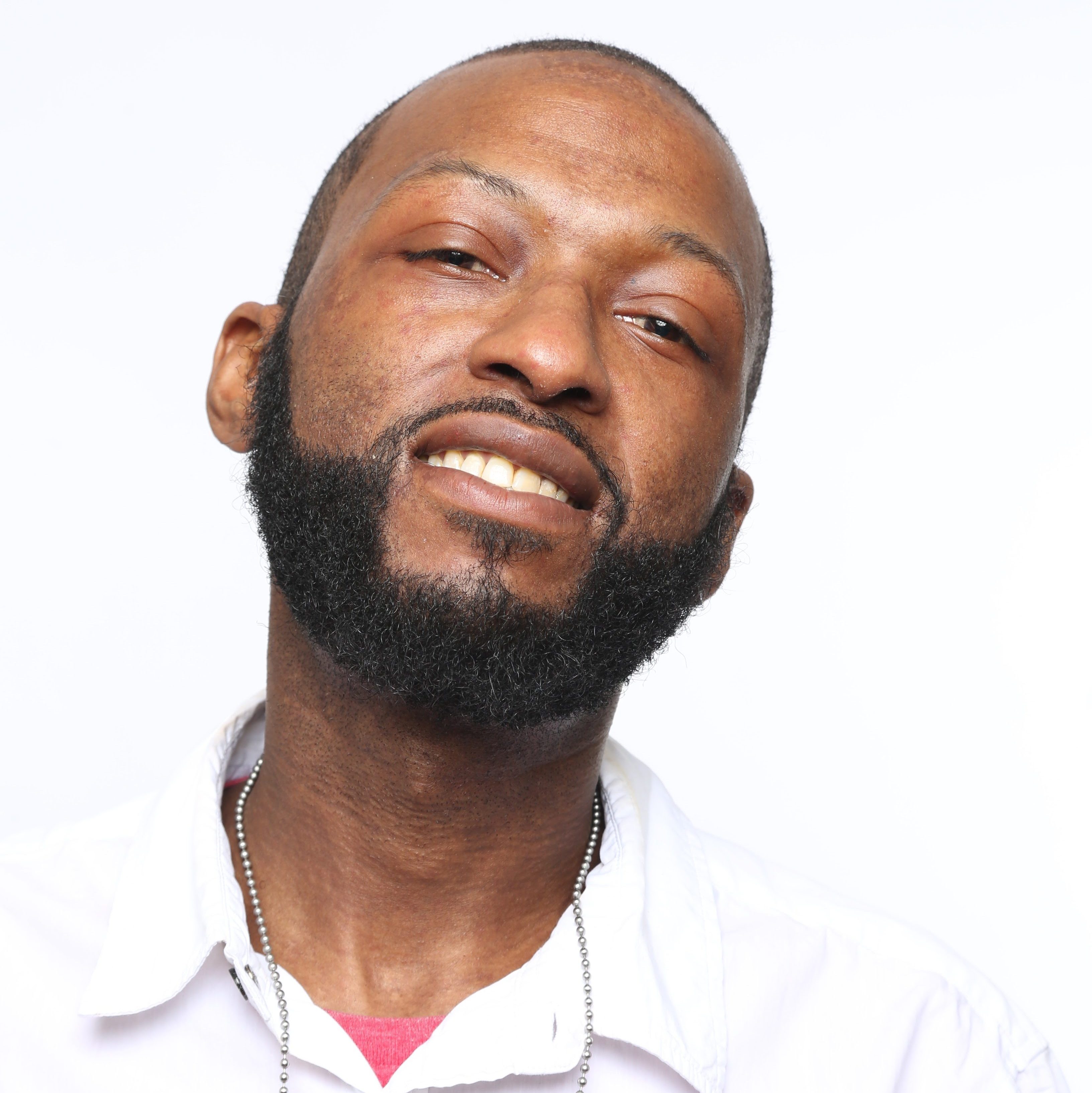 Devon Glover (Cuddy Banks). REGIONAL: Richard III (Salty Shakespeare); As You Like It (Southern Shakespeare); A Town Divided *co-writer* (Southern Shakespeare); Fences (Canopy Roads); A Midsummer Night's Dream (Shakespeare In Yosemite); UPCOMING: As You Like It (Shakespeare in Yosemite). WEBSITE: www.SonnetMan.com; TWITTER: @thesonnetmannyc; IG: @thesonnetman.




Emma Montoya Hills (Associate Producer). OFF-BROADWAY: Associate General Manager, HERE Art Center. Company Manager, Symphonie Fantastique (HERE). Producer: Period Sisters (HERE), Associate Producer, Shaken Not Stirred (The Django), Producer, Emerson Looses Her Miand (New York Winterfest), General Manager, Precious Things (The Attic at Theatre Row). Twitter & IG: @esmhills





Adriane Moreno (Susan) OFF-BROADWAY: Period Sisters (HERE Arts Center); Empire Travel Agency (Woodshed Collective); Denmark (Access Theater). FILM: Desiree, Bev, Gold. UP NEXT: Not A Gift (FringeNYC). TRAINING: NYU




Will O'Hare (Sir Arthur). RUDE GROOMS: Debut. LONDON: Henry V (Passion in Practice at Sam Wanamaker Theatre); BROADWAY: Mary Poppins, The History Boys; OFF-BROADWAY: A Midsummer Night's Dream (Theatre For A New Audience), Bullet For Adolf (Children At Play), The Bomb (International Wow Company), Expense of Spirit (International Wow Company); TORONTO: Hamlet (Why Not Theatre), King Lear (Hart House Theatre).

Kate Pitt (Actor-Manager, Kate) does theater. A generous amount. Mostly Shakespeare. Sellsword writer/director/dramaturg/coach. Previously with Rude Grooms: Much Ado About Nothing; other recent work: Assistant Director, The Way of the World (dir. Theresa Rebeck). B.A. Yale (History). Additional Training: RADA, Shakespeare & Company, Double Edge. Four years in Public Programs at the Folger Shakespeare Library. Former All-American foil fencer and current novice swing dancer. @KatePitt.
Deb Radloff (Elizabeth Sawyer). With Rude Grooms: Dogberry/Margaret in Much Ado About Nothing. OFF-BROADWAY: Caucasian Chalk Circle (Classic Stage Company); A Brand New World (Three Act Theatre at Theatre Row). OFF-OFF BROADWAY: Much ADO About Nothing (M.O.D theatre), Mother Knows Best (Best Emerging solo artist at the United Solo); Brewed (NYC Fringe). REGIONAL: Northern Stage; Denver Civic Theatre; Pericles, Othello, Twelfth Night, Measure for Measure (Nebraska Shakespeare Festival); Richard III, The Tempest, Much Ado About Nothing, As You Like It (The Old Globe). NEW MEDIA: Micro musical show: The New Peggy, The Pulp Tales Of Gwendolyn Gween. M.F.A, The Old Globe/USD. Repped by Professional Artists. IG: @debfindingherwin



Yael Reich (Winnifred). NATIONAL TOURS: Mamma Mia!, Mamma Mia! Farewell Tour, RENT 20th Anniversary Tour. REGIONAL: Man of La Mancha, West Side Story (Bigfork Summer Playhouse), Winter Wonderettes (Hippodrome Theatre), A Servant to Two Masters (Constans Theatre), Othello (Florida Players Stages). UP NEXT: Evita  (National Tour). Website: www.yaelreich.com; Twitter & IG: @yaellily.




Eric Simpson (Warbeck & Fidler). NEW YORK: ShakesBEERience: Henry VI, Parts I, II, and III (Seven Stages Shakespeare). Finalist in WQXR "Moonlighters" competition. Music critic for The Classical Review. Twitter: @EricCSimpson


Montgomery Sutton (Frank). with Rude Grooms: Benedick in Much Ado About Nothing. LONDON: Twelfth Night (Shakespeare's Globe); OFF-BROADWAY: A Midsummer Night's Dream (New York Classical Theatre); REGIONAL: Henry V (Cape Fear Regional Theatre); The Winter's Tale (Seven Stages Shakespeare); Love's Labours Lost, King Lear, Richard III, Measure for Measure (Trinity Shakespeare); One Man, Two Guvnors (Florida Studio Theatre); Booth, Gruesome Playground Injuries (Second Thought Theatre), Theatre Three, Uptown Players, Circle Theatre, Dallas Children's Theater, Shakespeare Dallas. FILM/NEW MEDIA: Trouble with Women, 1865. Upcoming: Macbeth (New York Shakespeare Company). Website: www.montgomerysutton.com; Twitter & IG: @montgomerysutto