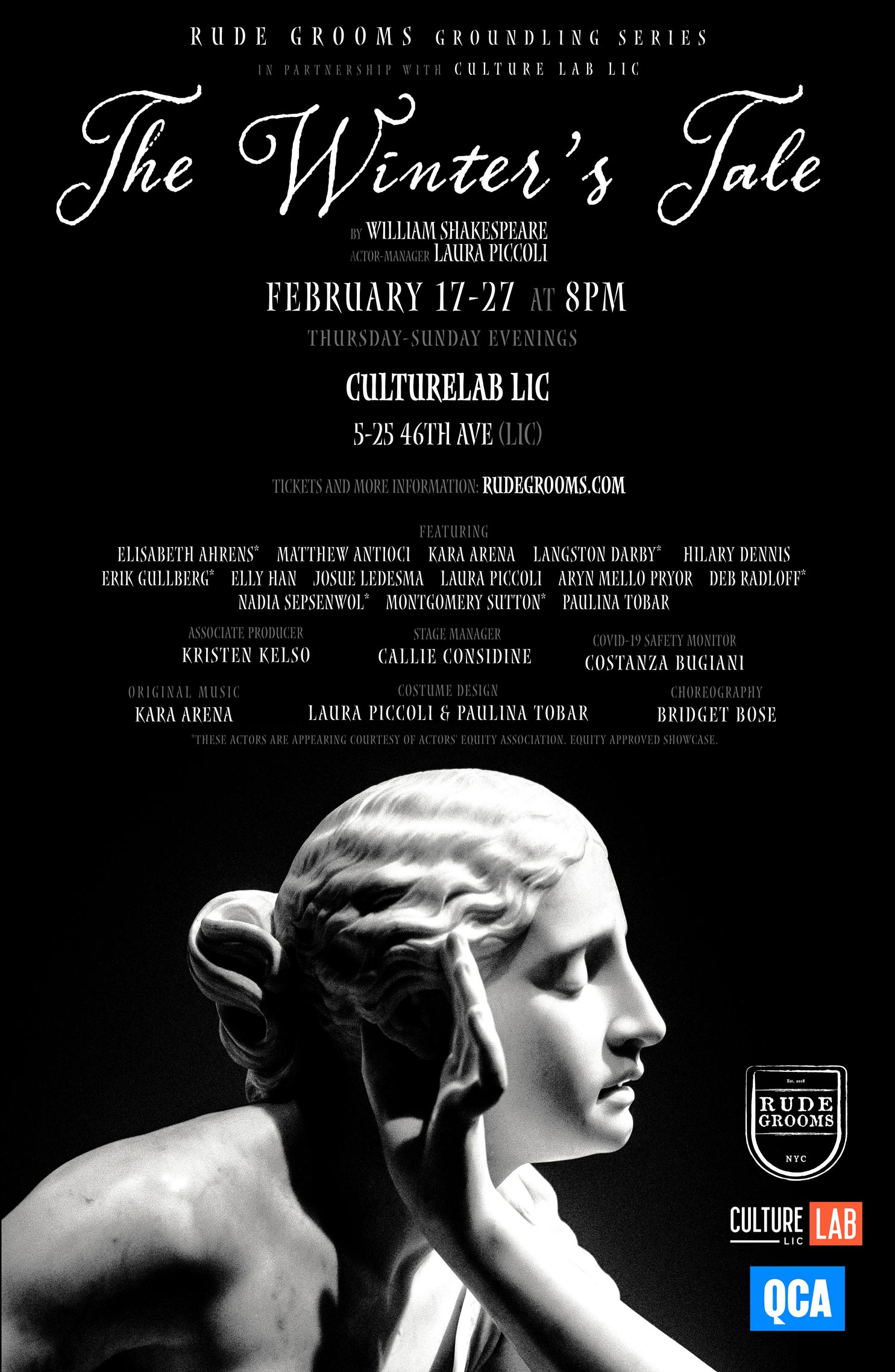 Thursday-Sunday 8pm | February 17-27, 2022
"A sad tale's best for winter. I have one of sprites and goblins." -The Winter's Tale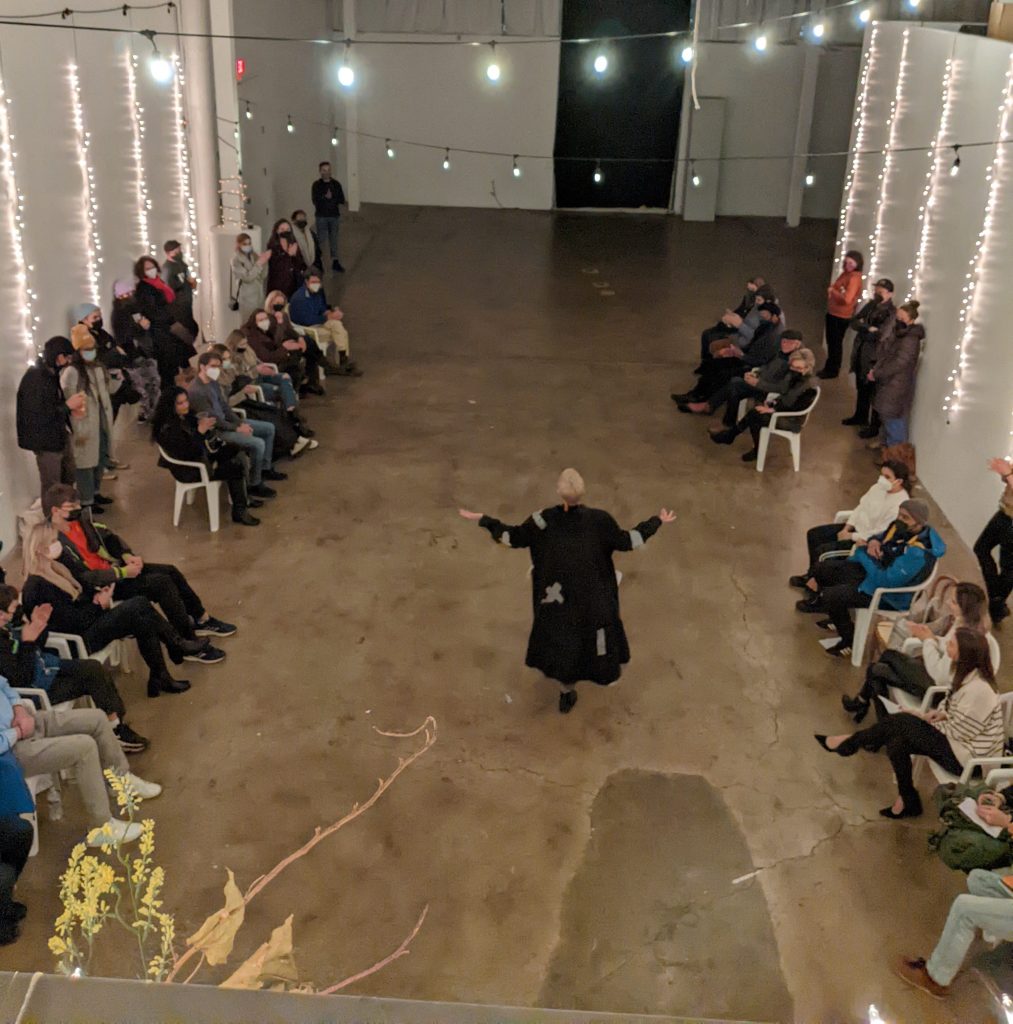 ABOUT THE WINTER'S TALE
In Shakespeare's classic tragicomedy, The Winter's Tale, one king's jealousy transforms the lives of two royal families over 16 years. When the King of Sicilia suspects his wife is having an affair with the King of Bohemia, his suspicion leads to tyranny, remorse, lost children, and miraculous reunions. Both poignant and funny, Shakespeare's masterful cold-weather tale captivates audiences of all ages.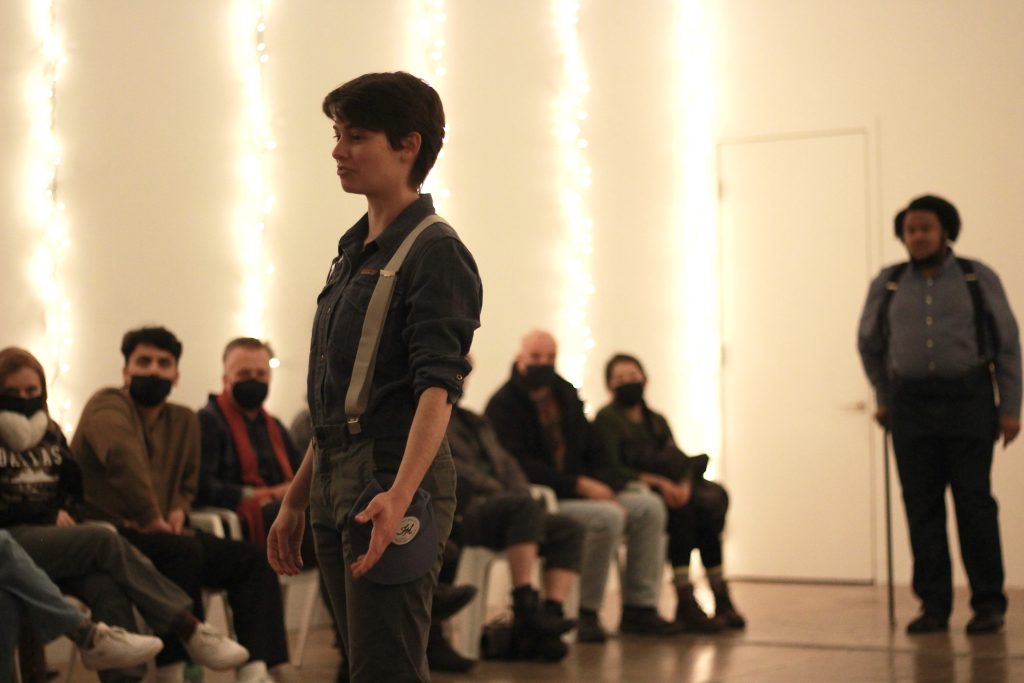 PERFORMANCE DETAILS
The production runs approximately 120 minutes with a 10-minute intermission.
This is an interactive performance. Characters will frequently address you directly and we encourage you to respond verbally or non-verbally. Please engage as much or as little as you prefer!
However, please consider the experience of your fellow audience members and avoid behavior that might prevent others from enjoying the experience. Heckling, harassment, offensive words or behavior, etc. are strictly prohibited and may result in the removal of the offending audience member.
There are designated seating and standing areas for audience members. For your own safety and that of the actors, please remain in these areas unless directly invited into the playing area by a performer.
The performance begins at 8:00pm at Culture Lab LIC. Come early to enjoy the fantastic artwork curated by our producing partners the Long Island City Artists, or purchase a VIP seat to enter the performance early and enjoy exclusive pre-show entertainment!
Groundling tickets are $10 and are standing-room only for approximately 60 minutes of the production — however, if you have accessibility needs that make standing for that length of time uncomfortable, please reach out to us at boxoffice@rudegrooms.com to request an accommodation. Reserved Seating for the entire performance begins at $25 for standard or $35 for VIP Reserved Seating with early entry, additional programming, and a free drink.
Members of our Patreon community and our Fractured Atlas sponsors and donors make our work possible. Patreon allows your to support our work and get exclusive benefits, discounts on all tickets and merchandise, and behind-the-scenes access for as little as $4/month; Fractured Atlas allows donors to make tax-deductible contributions to support our work.
Rude Grooms is a sponsored project of Fractured Atlas, a non-profit arts service organization. Contributions for the charitable purposes of Rude Grooms' must be made payable to Fractured Atlas only and are tax-deductible to the extent permitted by law.
This production is made possible (in part) by the Queens Council on the Arts with public funds from the New York City Department of Cultural Affairs in partnership with the City Council.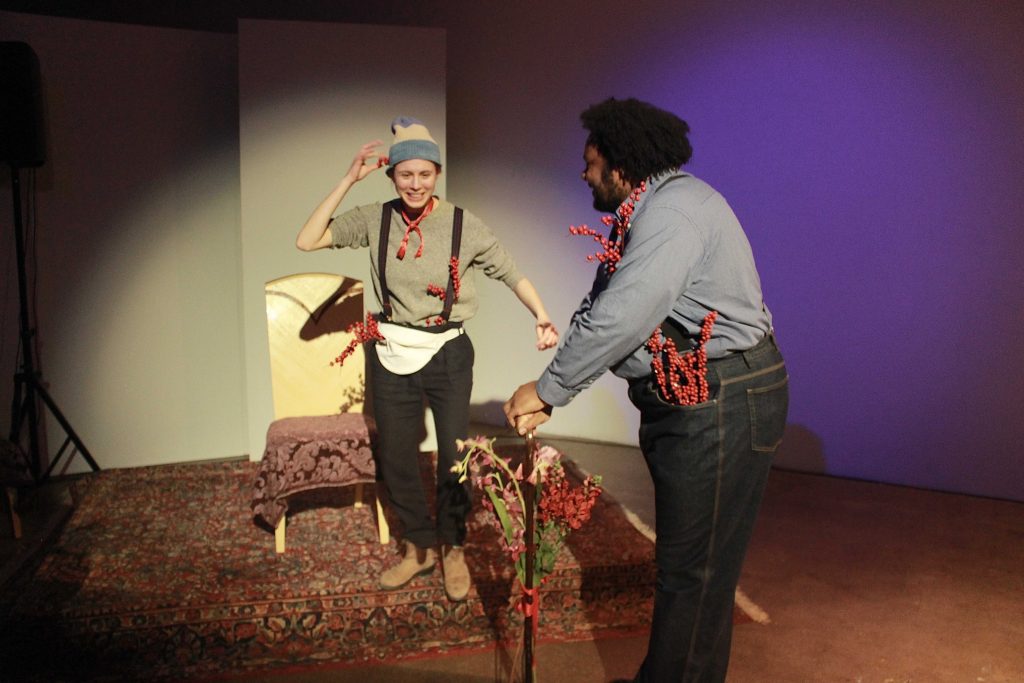 ARTIST BIOGRAPHIES
ELISABETH AHRENS (she/her; Hermione). RUDE GROOMS: Isabella in The Changeling, Montague, Apothecary, Peter in Romeo and Juliet; NYC: As You Like It, Sir Patient Fancy, Taming of the Shrew (The Queens Company); Constancy, Hearts, You and I, Within the Law (Metropolitan Playhouse); Transport (The Irish Arts Center); The Elephant Man (The Gallery Players); Macbeth, The Winter's Tale (South Brooklyn Shakespeare); Love's Labour's Lost, The Tempest, Comedy of Errors, Hamlet (Hip to Hip Theatre Co.) REGIONAL: The Giver, The Imaginary Invalid (Asolo Repertory Theatre); TRAINING: MFA, Florida State Asolo Conservatory.
​​MATTHEW ANTOCI (they, them; Dion & Mopsa/Apprentice). REGIONAL: The Cherry Orchard, Shakespeare in Love, The Curious Incident of the Dog in the Night-Time, If We Were Birds, As You Like It, Our Country's Good (Connecticut Repertory Theatre). FILM/TV/NEW MEDIA: The Fires We Don't See (Cinnamon Summer Series), Chebutykin (Zoom), Little Women (Zoom).TRAINING: BFA, UConn & Theatre Academy London at FSU. www.matthewantoci.com.
KARA ARENA (she/her; Perdita/Mamillius/Composer) RUDE GROOMS: Composer for Much Ado, The Changeling. NYC: The Last Night of The Oki Dog (Theatre Row), Spring Awakening (Irondale Center). REGIONAL: A Midsummer Night's Dream, Into the Woods (CT Shakespeare Festival), The Winter's Tale, Twelfth Night (Seven Stages Shakespeare Co), Obama-ology , Evita (Bay Street Theater). WORKSHOPS: Concrete Jungle (MTC), Big Deal (MTF), Picnic at Hanging Rock (Goodspeed). 2019 Recipient of Actors' Equity Foundation Roger Sturtevant Award. Proud graduate of The William Esper Studio and The Boston Conservatory. Debut EP "Something Blue" soon to be released on all music streaming platforms. Love to Josh and the team at ASA. karaarena.com @karaarena
COSTANZA BUGIANI (she/her/hers; COVID-19 Safety Monitor). INTERNATIONAL: Young Blood, The prisoner of Second Avenue, The misanthrope (Teatro del Mantice, Florence, Italy); Seagull – La vita e' una carota (Attodue/ I dinosauri, Teatro Limonaia, Florence, Italy); An Ideal Husband, La Commedia (Bottega Instabile, Florence, Italy); Oblomov, Onegin, The misanthrope, (Teatro Manzoni, Florence); TEATRO DEL MANTICE Co-founder, marketing and social media manager. ATOMI TEATRO: Consultant and social media manager. TRAINING: Teatro Metastasio, Prato, Italy: Lab Teatro FormAzione, Florence, Italy. IG: @cioppibau
BRIDGET BOSE (she/her/they/them; Choreographer) RUDE GROOMS: Choreographer for Much Ado About Nothing, The Witch of Edmonton, Twelfth Night, Romeo & Juliet, The Changeling. BROADWAY/OFF-BROADWAY: Performer with Joint CO of Wonders, Guilty Pleasures Cabaret Choreographer with New York Shakespeare Company. NATIONAL: American Dance Festival, American College Dance Festival, Intourdanza Spain, Velocity; INTERNATIONAL: Mystic India, Ferrari World Abu Dhabi RED Circus). DIRECTOR/PRODUCER: GPC Entertainment, Bradley FIelds Entertainment, Imagination Stage) and many works for at-risk youth companies/groups (Riverdale Community Center, Jackson Hole Youth Outreach). She teaches dance, yoga & choreography (Broadway Dance Center, Elite Dance Studio) and is Founder, Director and Producer of GPC Entertainment, with monthly bookings in NYC and annual domestic/international tours. Notable Credits: ABT Le Corsiare, Bradley Fields Mathemagic & Cabaret of Magic, Star Plus TV show Just Dance Live. Social Media: @bridgetbose @gpcabaret
CALLIE CONSIDINE (she/her/hers; Stage Manager). NYC: Devices of Torture, Son of an Unknown Father, CLYT; or The Bathtub Play, Absolution (The Skeleton Rep(resents)); No Better News (Schaefer Studios); Graduation, Blithe Séance (Grygo Studios); This Sinking Island, Within Our Walls (Rising Sun Performance Company); REGIONAL: Twelfth Night, In the Red and Brown Water, Morning (Clarke Theatre); Antony and Cleopatra (McCarter Theatre); The Andventures of Pinocchio (Music Mountain Threatre) TRAINING: Ithaca College, BA Theatre Studies; The Skeleton Rep(resents) FILM/TV/NEW MEDIA: The Great Vanishing (The Skeleton Rep(resents). @callieisaginger
LANGSTON DARBY (he/him/his; Lord/Shepard). OFF-BROADWAY: The Black History Museum…According to the United States of America (Smoke & Mirrors Collaborative, HERE Arts); REGIONAL: Much Ado About Nothing (Shakespeare in Clark Park); The Taming of the Shrew (Delaware Shakespeare); The Hairy Ape, Uncle Tom's Cabin: An Unfortunate History (EgoPo Classic Theatre); How I Became a Pirate, Amadeus (Walnut St. Theatre); FILM/TV/NEW MEDIA: Bugs and Daffy's Thanksgiving Road Trip (Looney Tunes); Cupids (Smoke & Mirrors Collaborative, Tribeca Studios); N****r: The Strange Career of a Troublesome Word (Penguin Random House Audio) Echoes of a Winter Sunshine (Abeng Studios); TRAINING: Atlantic Acting School; BFA in Performance University of Southern Mississippi. langstondarby.com Twitter: @langstondarby IG: @langstonhdarby
HILARY DENNIS (she/her/hers; Swing). NYC: Spanish + English Language Days (UN Chamber Music Society); REGIONAL: Hamlet, King Lear (Elsewhere Shakespeare Company); Macbeth (A.P.E. at 33 Hawley); FILM/TV/NEW MEDIA: Life & Beth (Hulu); Escaping Ohio (Prod. Jessica Michael Davis); Snakeheadz (Dir. Ivy Rhodes); TRAINING: Certificate, Tom Todoroff Studio Conservatory; BA in Environmental Studies and Spanish, NYU. WEBSITE: www.hilarygdennis.com IG: @hilarygdennis
ERIK GULLBERG (he/him, Leontes) NYC: Dream Ticket (NY Fringe), The Boss, House of Mirth (Metropolitan Playhouse). Regional: Macbeth, Much Ado About Nothing, Julius Caesar (Alabama Shakespeare Festival), Lombardi (Riverside Theatre), Twice Charmed! (Disney Cruise Lines) Film: The Playground (2020 – Best Actor Sweden Film Awards, Canadian Diversity Awards) TV: The Blacklist, Law & Order: SVU (NBC), Bull (CBS), commercials for AFLAC, Comedy Central, Bojangles! Fried Chicken, and more. Web: 5 Stages (elitedaily.com) Training: BFA in Drama & History from NYU TSOA – Strasberg, Classical Studio, RADA, & Stonestreet. Twitter: @erikgullberg. For the crown and comfort of my life, Emily.
ELLY HAN (She/Her ; Emilia, Sailor/Apprentice) TV: HBOmax: The Flight Attendant; Netflix: Unbreakable Kimmy Schmidt. HBO: The Duece. FILM: Teppo Airaksinen Supercool, Stavit Allweis Cooking with Connie, Deborah Kampmeier Split. TRAINING: MFA Drama The New School. Instagram: @ellypie0623
KRISTEN KELSO (she/her; Associate Producer). NYC: Break the Ritual: Burial (Misfits Theatre Company, NYC); REGIONAL: Othello, Taming of the Shrew (Shakespeare Dallas, Associate Director), Quixote (Shakespeare Dallas, Assistant Director), Lydia (Cara Mía Theatre Company, Assistant Director), Wolf at the Door (Kitchen Dog Theater); FILM/TV/NEW MEDIA: Songs for my Grandfather (Irondale OnWomen Theatre Festival, New Media Storytelling), TRAINING: BFA, SMU. MA, NYU. WEBSITE: www.kristenkelso.com.
JOSUE LEDESMA (he/him/his, Polixenes) is an actor, writer, and artist. OFF-BROADWAY: Bragging Rights (The PIT Striker, Asylum Theater), FILM: The Mick and the Trick (Dir. Tom DeNucci), Contretemps (Whole Picture Films), Karma Latte: The Lenin Gutierrez Story, The Void, (Outhouse Productions), Break Up Out Loud (Writer and Dir. Josue Ledesma), TRAINING: BFA, Narratives, NYU Gallatin, HB Studio, Regina O'Malley, Joseph Daly, John Monteith. josuealedesma.com (Acting) josueledesma.com (Art ) IG: @josue.a.ledesma
LAURA PICCOLI (she/her; Clown/Actor Manager). RUDE GROOMS: Benvolio in Romeo and Juliet, Viola/Sebastian in Twelfth Night, Hero/Actor Manager in Much Ado About Nothing; OFF-BROADWAY: The Glass Menagerie (Pigeonholed Theater Co.); Three Sisters (Harold Clurman Lab). REGIONAL: Taming of the Shrew, The Tempest (7 Stages Shakespeare Co.). FILM/TV/NEW MEDIA: Law and Order: SVU (dir. Mariska Hargitay); Skindiving (dir. Victoria DeMartin). TRAINING: B.F.A, NYU Tisch School of the Arts. www.lauracpiccoli.com @lauracpiccoli
ARYN MELLO PRYOR (they/she; Cleomenes/Florizel). NYC: Zerospace, (Zerospace); Romeo & Juliet, (FairShakes) REGIONAL: A Lie Agreed Upon(Gamm Theatre) FILM/TV/NEW MEDIA: Love Me Not (Love Me Not); The Legend of Robin Hood (Abide) TRAINING: MFA, East 15 Acting School. arynmellopryor.com. IG: @arynmellopryor
DEB RADLOFF (Antigonus/Dorcas) RUDE GROOMS: Romeo & Juliet, Twelfth Night. OFF-BROADWAY: Caucasian Chalk Circle (Classic Stage Company) OFF-OFF: Much ADO About Nothing (M.O.D theatre),"Mother Knows Best"(Best Emerging solo artist, United Solo Theatre festival) REGIONAL: Last of the Red Hot Lovers (Northern Stage). Richard III, and Death of a Salesman (The Old Globe). NEW MEDIA: Micro musical show: The New Peggy, The Pulp Tales Of Gwendolyn Gween. TV: God Friended Me, For Life, The Marvelous Mrs. Maisel S.4. M.F.A The Old Globe/USD. Rep. by the amazing folx at Professional Artists. IG: @debfindingherwin
NADIA SEPSENWOL (she/her/hers; Camillo) is a resident actor at The Mercury Store, under artistic director Will Frears. Off-Broadway: Romeo and Juliet (CSC); The Amazing Oocytes of Rockland Cartmonet (EST); First Daughter Suite (The Public Theater, workshop). NYC: Three Graces (The New Ohio); By Rights We Should be Giants (The Secret Theatre); The Winter's Tale, The Seagull, Summertime (Columbia Stages); International: Big Love (Setkani Festival, Brno, Czech Republic); The Tempest (Folkswang Festival, Essen, Germany). Film: Sandbox (winner Best Actress, Long Island International Film Expo; dir. Eddie Lebron); Photoluminescence (also author of; dir. Eddie Lebron); Professional Witnesses (dir. Jenna Bliss). MFA, Columbia. www.nadiasepsenwolactorwriter.com
MONTGOMERY SUTTON (he/him; Autolycus) RUDE GROOMS: The Changeling, Romeo and Juliet, Twelfth Night, (Actor-Manager);Much Ado About Nothing, The Witch of Edmonton (Actor). LONDON: Twelfth Night (Shakespeare's Globe); OFF-BROADWAY: New York Classical Theatre; REGIONAL: Shakespeare in Love (Shakespeare Dallas), The Winter's Tale (Seven Stages Shakespeare), Measure for Measure, Love's Labour's Lost, King Lear (Trinity Shakespeare), Henry V (Cape Fear Regional Theatre), Florida Studio Theatre, Casa Mañana, world premieres of Booth (Second Thought Theatre), Tomorrow Come Today (Undermain Theatre), & On the Eve (Theatre Three); FILM/NEW MEDIA: 1865 (with William Jackson Harper & Reed Birney), Trouble with Women (Rising Star Award, CIFF). BFA, NYU; International Actors Fellowship (Shakespeare's Globe). montgomerysutton.com IG: @montgomerysutton
PAULINA "PAU" TOBAR (she/her/ella; Paulina/Costume Designer) RUDE GROOMS: The Changeling (SM); Romeo and Juliet (ASM). CHILE: Magenta in Rocky Horror Show (Teatro Petulante); Crystal in Little Shop Of Horrors (Teatro Petulante); Les Miserables (Merlin Producciones); Ticket to Broadway (Merlin Producciones). NYC: Bully The Bully (The Secret Theatre); A Sketch of New York (The Producers Club Theatre), Let's Broadway Cabaret (Marque Productions). CREW/PRODUCTION: Other World, a New Musical (PA, Delaware Theatre Company); All Is Fair I & II (SM, Quest Players); The Award Goes To (SM, Tada! Theatre); Ann (SM, Hudson Guild Theatre); Sound Bites 6.0 Festival (PA, Merkin Concert Hall) IG: @pautobarmusic