by Thomas Middleton and William Rowley
"Catch there, catch the last couple in hell." –The Changeling
One of TimeOut NY's "13 Best Halloween Theater Events of 2019"
READ MORE
QNS.com: Enjoy a creepy Queens Halloween with 'The Changeling'
Show-Score: Clever, Intense, Great Acting, Refreshing
BroadwayWorld: Rude Grooms Brings THE CHANGELING To The Astorian And The Plaxall Gallery This Halloween
Queens Chronicle: Five Things to Do in Queens this Weekend
The Changeling originally ran in the two weeks leading up to Halloween, 2020, at The Astorian, The Plaxall Gallery, and The Players NYC. The production is available for touring, private, and university booking. For more information, email info@rudegrooms.com.
Members of our Patreon community and our Fractured Atlas sponsors and donors received invitations to our Opening Night party immediately following the sold-out Opening Night performance on October 25th. Patreon allows your to support our work and get exclusive benefits and access for as little as $4/month; Fractured Atlas allows donors to make tax-deductible contributions to support our work.*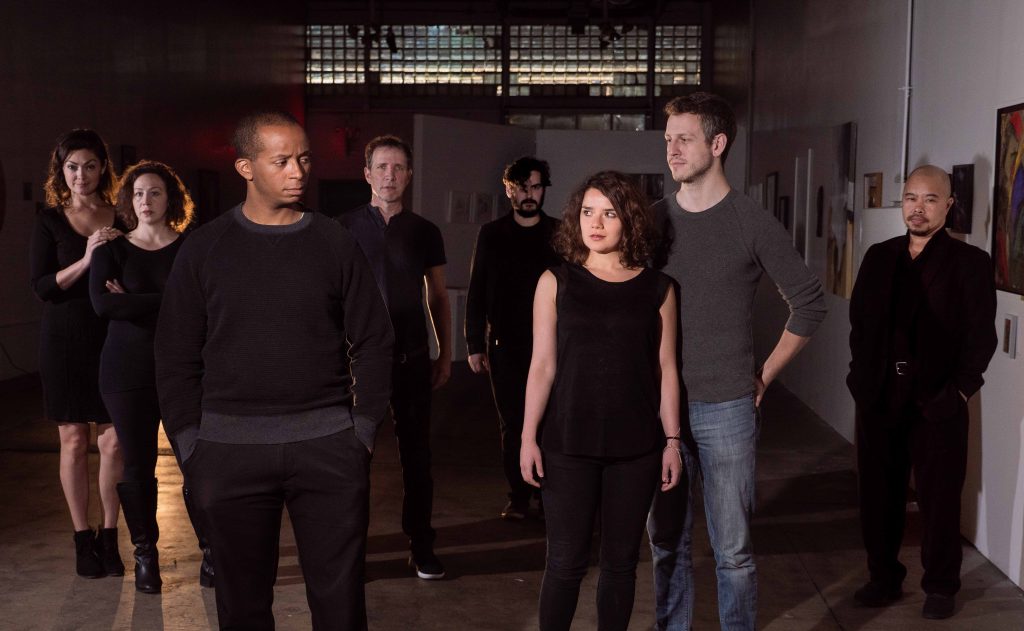 ABOUT THE CHANGELING
The Changeling is a deeply disturbing 1622 tragicomedy of lust, madness, and murder. A young woman plots to kill her fiancé after falling for another man. She persuades a servant, madly in love with her but whom she deplores, to commit the crime. That act of violence begins a cascade of horrors that leave no one unscarred. Experience the play that The Guardian calls "a grisly masterpiece" brought to life through site-specific performance, direct audience engagement, and live music.
The Changeling is a wild blend of genres that will appeal as much to fans of Jennifer's Body or American Psycho as fans of Shakespeare and Jacobean drama. In its initial run, our production enjoyed an almost entirely sold out run at The Astorian and the Plaxall Gallery as we conjured these 400 year old ghosts in Queens.
This haunted Halloween trip to the madhouse is designed to be experienced in a speakeasy setting (originally at The Studio Bar at The Astorian) or in an immersive, mobile rendition in a 12,000 square foot art gallery (originally at The Plaxall Gallery).
PERFORMANCE DETAILS
The production runs approximately 80 minutes with no intermission.
COSTUME COMPETITION AT EACH PERFORMANCE. Just for entering, participants get a free Rude Grooms sticker; the winner gets a signed poster and additional prizes that vary from engagement to engagement.
ABOUT THE TEAM
The production was led by actor-manager Montgomery Sutton (Twelfth Night at Shakespeare's Globe), produced in partnership with The Astorian and Long Island City Artists at the Plaxall Gallery. The creative team included Rude Grooms Associate Artists Kara Arena (original music), Bridget Bose (dance choreography) , and Laura Piccoli (costume design). The production was stage managed by Paulina Tobar (Rude Grooms' Romeo and Juliet)
The acting ensemble included Rude Grooms Sharers Daniel Kemper (The Limit of the Tongue, The Daughter's Collective) and Deb Radloff* (Caucasian Chalk Circle, Classic Stage Company) alongside guest artists Elisabeth Ahrens* (Taming of the Shrew, Queens Company), Clio Contogenis (A Midsummer Night's Dream, Shakespeare Theatre of New Jersey), Andrew Garrett* (Julius Caesar, Houston Shakespeare Festival), Yael Reich* (Evita, National Tour and Orlando Shakes), John Roque* (Twelfth Night, Leviathan Lab), Jack Sochet* (Cora & Dave Are Getting Older, Ensemble Studio Theatre), Harry Waller* (Much Ado About Nothing, Royal Shakespeare Company), and a special appearance by soprano Alexandra Lang ("A superb singing actress," Voce di meche) alongside pianists Eric Sedgwick & Nora Bartosik.
Rude Grooms creates epicly intimate theatrical experiences built on classic stories. Our work is rooted in the actor-audience relationship exemplified by Shakespeare's acting company: we use interactive and responsive techniques of Early Modern acting companies in public spaces, non-traditional venues, and new media to decentralize and increase access to the arts. By bringing the plays out to our audiences and offering free or low-cost admission to all of our productions, we enrich our community through cultural engagement that is accessible financially, geographically, and artistically.
Make a tax-deductible donation to support our work through Fractured Atlas. Rude Grooms is a sponsored project of Fractured Atlas, a non-profit arts service organization. Contributions for the charitable purposes of Rude Grooms' must be made payable to Fractured Atlas only and are tax-deductible to the extent permitted by law.
LIC Artists, Inc. (LIC-A), is a 501(c)3 non-profit arts advocacy organization founded in 1986 by artists in Long Island City. In 2016, Plaxall, Inc. generously donated a waterfront warehouse space to serve as a fine art gallery, performing arts venue, and community center. LIC-A presents monthly art exhibitions, art classes, theatrical productions, dance and music performances and special events. (www.licartists.org)